Excellence in Global Travel Safety
Enterprise level travel safety data with 24/7 monitoring, to protect your people, worldwide.
With TGuard 24/7, gain an unmatched travel safety solution with real-time risk monitoring, tailored alerts, and expert support to empower you to ensure the well-being of your travelers and citizens, where ever they go.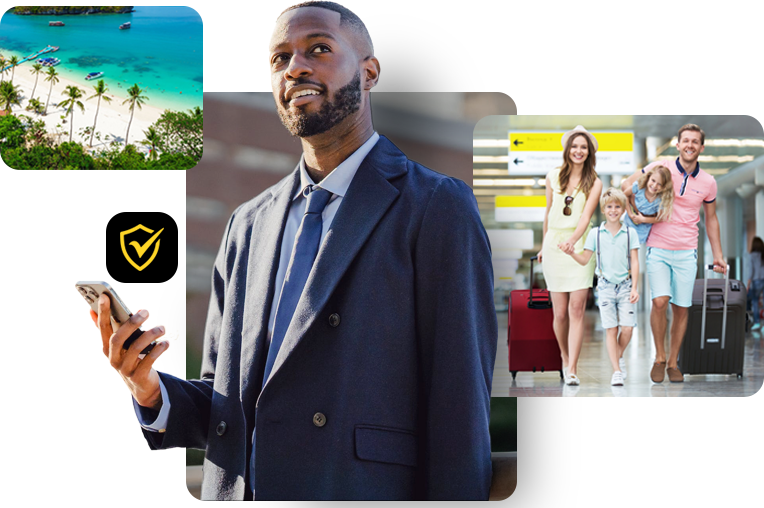 Real-time travel alerts
Our safety data analysts backed by an AI-powered system constantly monitor global travel risks and send real-time location-based travel alerts.
API for integration
Our powerful API (Application Programming Interface) allows for the integration of TGuard into existing digital systems.
Effortless Connectivity: Our API provides a standardized and intuitive way to connect your digital systems with TGuard. It allows for easy communication and data exchange between your platforms and our robust travel safety service.
Real-Time Data Syncing: With our API, you can access real-time travel data, notifications, and safety alerts directly within your own systems. Stay up to date with the latest travel risk information without the need to switch between multiple platforms.
Customized Solutions: Our API offers flexibility for customization, allowing you to tailor the integration according to your specific needs. Whether you require specific data points, customized notifications, or unique functionality, our API can accommodate your requirements.
Streamlined Workflows: By integrating TGuard into your digital systems, you can streamline workflows and enhance operational efficiency. Seamlessly incorporate travel safety features and information into your existing processes, ensuring a cohesive and comprehensive approach to risk management.
Integrating TGuard through our API empowers your organization to leverage our extensive travel safety capabilities directly within your digital ecosystem. Enhance your user experience, improve operational efficiency, and provide your users with the most up-to-date travel safety information, all within your own branded environment.
Expert analysis and support
Expert risk analysis and support is at the core of our services at TGuard. Our team of highly skilled safety data analysts employs sophisticated techniques to analyze and interpret vast amounts of risk data. Leveraging advanced algorithms and machine learning models, they identify potential risks and assess their impact on travelers in a real time format.
These dedicated professionals closely monitor a range of factors, including geopolitical events, weather patterns, and emerging threats, to provide accurate and real-time risk assessments. By continuously analyzing and synthesizing data from various sources, such as government agencies, international organizations, and local authorities, our data scientists generate actionable insights that help inform travel decisions.
Our team remains vigilant in tracking and evaluating dynamic situations, such as terrorist activities, civil unrest, and natural disasters, allowing us to promptly issue travel advisories and notifications. Their expertise extends beyond data analysis, as they collaborate closely with our support team to ensure seamless communication and assistance to travelers in need.
Custom built apps/systems
As the creators of TGuard, Strike Media has an intimate understanding of its underlying technology and can seamlessly integrate it into bespoke applications and digital platforms. By collaborating closely with clients, Strike Media ensures that the resulting solutions are tailored to their specific needs, offering a seamless user experience and powerful functionalities.
From developing intuitive mobile apps for travelers to incorporating TGuard's data feeds into existing systems, Strike Media's expertise allows leading companies to unlock the full potential of TGuard and revolutionize their travel risk management strategies.

Protect your people, no matter where they go.
Enterprise and Government Solutions
Keep citizens & officials safe
Government grade security

Custom build apps or integrations

Citizen or diplomat oriented notifications

365 country, up to date information

24/7 Travel Guard assesment, monitoring and notifications
API for integration into systems

Custom technology builds, combining our tech with your needs

SMS, email or data feeds

Marketing / Launch support
Customer & corporate safety
Customer orientated notifications

Staff orientated notifications

365 country, up to date information

24/7 Travel Guard assesment, monitoring and notifications
API for integration into systems

Custom technology builds, combining our tech with your needs

SMS, email or data feeds

Marketing / Launch support
1
What types of travel-related risks does TGuard 24/7 monitor for?
Conflicts and political unrest: TGuard 24/7 keeps a close eye on areas with ongoing conflicts, civil unrest, or political instability to provide real-time updates and alerts.
Terrorist activities: Our advanced monitoring system tracks and analyzes information related to terrorist activities worldwide, ensuring timely notifications to travelers.
Natural disasters: TGuard 24/7 monitors and provides alerts for natural disasters such as hurricanes, earthquakes, floods, and other severe weather events that may affect travel destinations.
Extreme weather conditions: Stay informed about extreme weather conditions such as storms, blizzards, heatwaves, or heavy rainfall that may impact travel safety.
Geopolitical changes: We continuously monitor geopolitical landscapes and provide updates on changes in travel advisories, visa requirements, or political tensions that may affect travel plans.
Airport closures and disruptions: Receive instant notifications about airport closures, flight delays, cancellations, or other disruptions that may impact your travel itinerary.
Scams and travel-related risks: TGuard 24/7 alerts travelers to potential scams, fraud, or unsafe areas, helping them stay vigilant and make informed decisions.
With TGuard 24/7, you can have peace of mind knowing that our comprehensive monitoring system covers a wide range of travel-related risks, keeping you informed and safe throughout your journey.
2
Does TGuard 24/7 provide localized information for specific travel destinations?
Yes, we provide localized information for all our risks, worldwide.
3
What sources are used by TGuard?
Our team of data safety analysts conducts continuous monitoring of global events using a diverse range of sources, including government sources from the US, UK, Australia, and Canada, as well as news outlets and on-the-ground sources.
4
Can TGuard 24/7 integrate with our existing travel risk management protocols?
TGuard 24/7 has an API that can integrate into existing systems or our expert team can develop tailor-made digital products combining our service and your requirements.
5
How does TGuard 24/7 ensure the privacy and security of our travel information?
At TGuard 24/7, we take the privacy and security of your travel information extremely seriously. We follow the highest standards to safeguard your data and maintain strict confidentiality.
Here's how we ensure your privacy and security:
Adherence to EU and Global Privacy Standards: We comply with all relevant privacy regulations, including the General Data Protection Regulation (GDPR) in the European Union. Our practices align with global privacy standards to protect your personal information.
No Retention of Sensitive Data: We do not retain sensitive personal data unnecessarily. Once the relevant information has served its purpose, we securely delete it from our systems.
Secure Data Storage and Encryption: Your travel information is stored securely in encrypted databases and protected with industry-standard security measures to prevent unauthorized access.
Strict Access Controls: We have implemented strict access controls to ensure that only authorized personnel can access and handle your travel data. Our employees undergo thorough background checks and adhere to strict confidentiality agreements.
Anonymous and Aggregated Reporting: When providing travel insights and analytics, we ensure that all data is anonymized and aggregated to protect individual privacy. Your personal information is never disclosed or shared in a way that compromises your privacy.
Rest assured that your travel information is treated with the utmost care and security at TGuard 24/7. We prioritize your privacy and are committed to maintaining the highest standards of data protection.